Topcon DT-200 Series Theodolite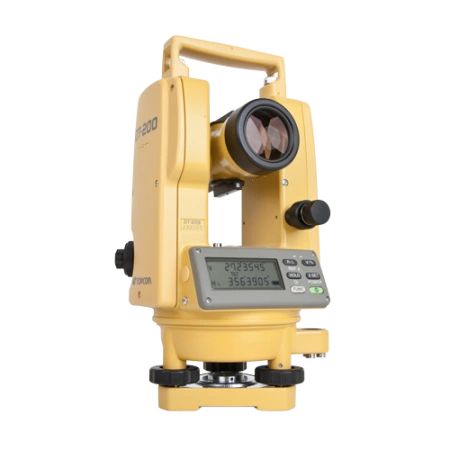 Topcon DT-200 Series Theodolite
Lightweight and compact angular measurement device
The DT-200 series integrates the same high-quality advanced absolute circle reading technology found in Topcon high-performance total station products for high accuracy field calculations.
• IP66 water and dust protection
• Compact and light weight
• Long-life 140 hour battery
• Absolute H & V angle encoder
• High accuracy (5", 7" and 9" models) measurements
Work fast, with precision
With our DT-200 you'll be up and working fast, thanks to its simple interface and large, easy-to-see backlit LCD. There's an optical plummet that makes set up over a control point easy, and a tilt sensor that provides ±3 minute angle correction.
With a range of angular accuracies available, only Topcon can offer the precision, durability, and advanced technology found in the DT-200 series.
Laser Pointers
Choose the Topcon DT-200L models if you need a laser pointer for easier sighting.