Sokkia/Topcon Magnet Field Software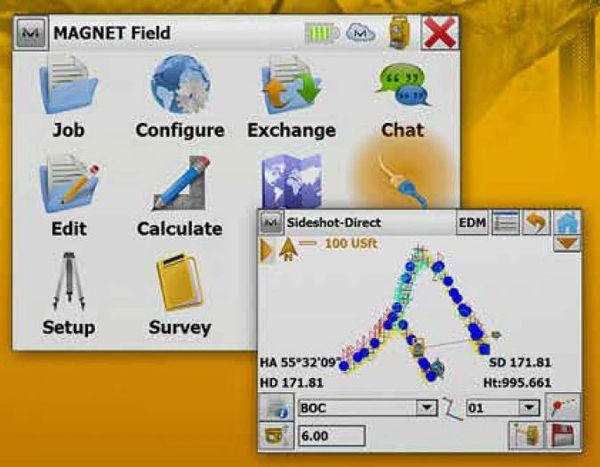 Sokkia/Topcon Magnet Field Software
MAGNET Field data collection software enables users to collect confident field measurements and perform construction stakeout, land surveying, and road layout functions, using total stations, levels, and GNSS receivers. Perform topography and layout functions with a helpful Microsoft Bing Maps satellite image background. Carry your custom CAD standards to the field within a Code Library and with a single screen tap, the software will instantly draw three dimensional linework and symbols. MAGNET Field does not require an internet connection in the field but can become even more productive with a cellular enabled controller.
Magnet Field and office brochure
MAGNET Field data collection software Product Specifications
Operating System
Windows Mobile 6 (or higher)
Graphics
Video Graphics Array (VGA) of 480 pixels x 640 pixels or higher
RAM
Minimum of 128MB
Disk Space
Minimum of 128MB free space
MAGNET Field Site data collection software is supported within the following devices:
Sokkia SHC-500
Sokkia SHC-5000
Sokkia Mesa

Topcon Tesla
Any Windows 7 tablet with

Microsoft Bluetooth stack and 1024 x 600 screen resolution
Note: MAGNET Field Site data collection software does not support Windows CE 5.x or 4.x operating systems. MAGNET Field Site is not supported on the FC-2500 field controller.