Keson OTR Fiberglass Series Tapes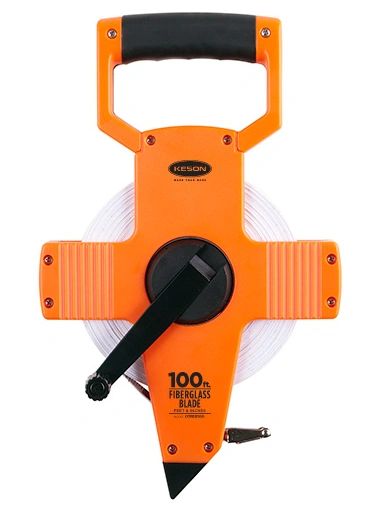 Keson OTR Fiberglass Series Tapes
OTR SERIES
OPEN-TYPE REEL, ULTRA-GLASS BLADE, STANDARD REWIND
A Keson best seller! Since 1968 this style of Keson fiberglass tape has been providing customers with accurate measurements. They are used in the harshest conditions in which people measure, and they stand to the only test that matters: field performance. We cover each blade with two coats of PVC protected by double shield, one to bind the fiberglass strands and a second over the printed units, so the numbers don't wear away.
We have made modifications to the housing over the years:
Better plastic and molding shapes for increased durability.
Double screws to hold the housing together in the event of a drop.
Better blade axle to reduce breakage due to the weight of the tape if dropped.
We've been honoring warranty dates long past a single year and we are now proud to offer a limited lifetime warranty on these products.
Features
Tough, molded handle is easy to grasp.
The crank handle is reinforced with metal to provide years of rugged use.
Double-throat rollers guide the blade return and prevent the tape from twisting.
The shovel handle is ideal for rapid reeling.
Two coats of PVC protected by double shield.