Council Tools 16 Inch Double Edge Blade w/ 40 Inch Handle - 640C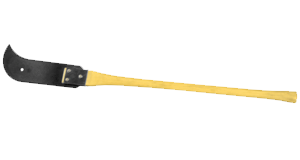 Council Tools 16 Inch Double Edge Blade w/ 40 Inch Handle - 640C
This is the granddaddy of clearing tools! 16" double-edge ditch bank blade features a 3-hole 40" wooden handle. Designed to be used on growth up to 2" in diameter. 12" and 14" blades are offered for lighter work.
* Blanked from high carbon hot-rolled American strip steel.
* Oil quenched  for uniform hardness and straightness.

* Drawn or tempered for best edge holding and toughness.
* Machine ground for uniform edge.

* High quality American hickory handle. 
* Made in the USA.